AJ Michalka is an American actress, singer, and musician. She is best notable for her musical duo Aly & AJ, with her sister Aly Michalka.
AJ Michalka's Early Life and Education
She was born on 10th April 1991, in Torrance, California, USA. She was born to a businessman father Mark Michalka and a musician mother Carrie Michalka.
AJ has an older sister Aly Michalka, a singer and actress, and a rother Ricky. Her parents separated when she was still a child.
Since the age of six, she played piano and also started playing guitar. She began acting at five, especially in church plays.
She belongs to German, Irish, English, Scottish, and Welsh ethnic heritage and holds American nationality. Her zodiac symbol is Aries.
Likewise, she attended Mack Elementary and later was homeschooled.
AJ Michalka's Professional Life
AJ made her debut from the Disney Channel Original movie Cow Bellas in 2006 where she portrayed Courtney Callum.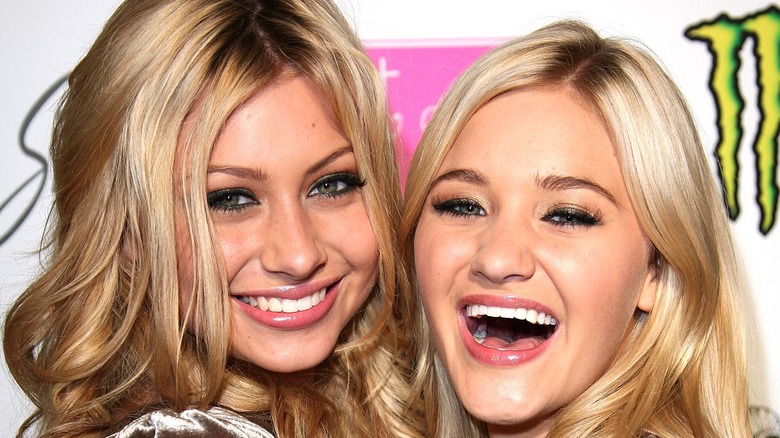 She also has appeared in other shows like Oliver Beene, The Guardian, General Hospital, Six Feet Under, and more.
Her notable movie roles include The Lovely Bones in 2008, Secretariat in 2010, Weepah Way for Now in 2015, Support the Girls in 2018, and more.
She also starred in the ABC TV sitcom The Goldbergs from 2013, its spinoff Schooled from 2019 to 2020, and Netflix animated series She-Ra and the Princesses of Power.
AJ Michalka's Personal Life
Coming at her personal life, AJ has not quite shared much regarding her current dating life with the media.
However, in her past, she has dated multiple guys throughout her career. None of those relationships turned out to be fruitful for her.
After multiple heartbreaks, she seems to be more focused on her career and does not seem interested in dating now.
Nonetheless, the actress is living a quite free and happy life on her own and also is quite busy with her work.
Is AJ Michalka Single?
Many sources claim the actress to be currently living a single life. She also has not made any public appearances with anyone who could possibly look like her partner.
After experiencing many breakups, she as of now, has focused on working on herself rather than tangling herself into any other relationship mess.
The Goldbergs actress seems to be very busy with her work which hardly leaves her with free time to spend for herself.
However, it is not a big task to find herself a worthy and compatible partner for herself with her generous personality and gorgeous looks.
Whom has AJ Michalka Dated?
So far, she has been involved in six relationships with different celebrities. She first dated American singer and songwriter Joe Jones.
Both of them were very new in this field which gave them a similarity and understanding which build their relationship.
However, their relationship only lasted for a few months and called it quits in 2006. She then skateboarder Ryan Sheckler in 2008.
They went on several dates and their relationship also lasted for a brief time. After him, she dated Bennett Heimple for a year.
Their relationship started in 2008 and ended in 2009. After Bennett, she met author Ryan Blair in 2010. Similarly, their relationship lasted for six months and broke up in March 2011.
In 2011, she met Harrison Mead right after her breakup with Blair. They also soon began dating and again their relationship ended nearly after a year.
As of now, the actress does not seem to be dating anyone and also does not shows much interest in this matter.
Is AJ Michakla Married?
No, the stunning actress AJ is in fact, not a married lady. She also is not involved in any sort of relationship presently.
She seems more occupied with her work and hardly has any time to date. However, she has dated numerous men in the past.
The actress also does not seem to be ready for marriage and also has not given an open statement about it.
However, when the right time comes, she will sure tie her knots with an ideal partner. It is very hard for guys not to like her with her personality.
Till then, she chooses her career over love and does not seem to have any regrets about it.
AJ Michalka's Controversies
So far, AJ Michalka has never been a prime subject of any sort of controversies and also lives far away from all these dramas.
However, she was rumored to be in a relationship with actor Colton Haynes, Patrick Schwarzenegger, Troy Gentile, and more.
Although, she never gave any statement about the rumor and it dissolved on its own without any of her advocacy.
Michalka also does not like drama and prefers to stay miles away from it. She also does not make frequent media appearances which help her to keep her private life hidden.
She has maintained her professional and private life separately and does not mix both with any other.
AJ Michalka's Net Worth
The talented singer and actress AJ Michalka has an estimated net worth of around $700,000 as per the celebrity net worth.
A huge bulk of her income generally comes from her career as a famous actress and musician.
However, her annual income is yet under the veil but viewing her career, it is easily assumed to be in thousands of dollars every year.
Likewise, taking a close look at her rising fame and success, it is sure her net worth in the coming time is sure to take a drastic rise.
She certainly lives a very luxurious and lavishing life in her cozy and rich place in California.
Although she has not disclosed anything regarding her real estate, she certainly lives in a very expensive neighborhood.
Her sister Aly, on the other hand, also has a net worth of around $2 Million according to the celebrity net worth.