Sophia Rose Stallone is an American model. She is also popular as the eldest daughter of the American actor and director Sylvester Stallone.
Sophia Rose Stallone's Early Life and Education
She was born on 27 August 1996, in Miami, Florida, USA. She is the daughter of popular actor and screenwriter Sylvester Stallone and former model Jennifer Flavin.
Sophia was born with a hole in her heart which lead to open-heart surgery as a newborn to amend complications in the future.
Stallone has two younger sisters Scarlet Rose and Sistine and two elder half-brothers Sage and Seargeoh. Sage, however, died due to heart disease in 2012 and Seargeoh also suffers from autism.
She belongs to Italian, French Breton, Irish, German, Polish, Ashkenazi Jewish ethnic background and holds American citizenship.
Stallone attended the University of Southern California and graduated with a degree in Communications with a minor in Entrepreneurship.
Sophia Rose Stallone's Professional Life
After her graduation, she started appearing on TV along with her sisters multiple times and her mother gave her ideas about the fashion industry.
She then started doing photo shoots and also did runway walks and was also featured on the cover of Harper's Bazaar.
Moreover, Golden Globes Award selected her to be the ambassador in 2017, and was also named Miss Golden Globe.
Likewise in recent times, she took the decision of starting as an entrepreneur like her mother. Inspired by Kylie Jenner with a successful business in the beauty industry.
Sophia Rose Stallone's Personal Life
When it comes to her personal life Sophia has chosen to keep it hidden from the media to the best of her abilities.
She does not like to talk openly about her personal life and has never disclosed much about the subject.
Nonetheless, Stallone is currently more focused on building her career rather than involving in relationships with different men.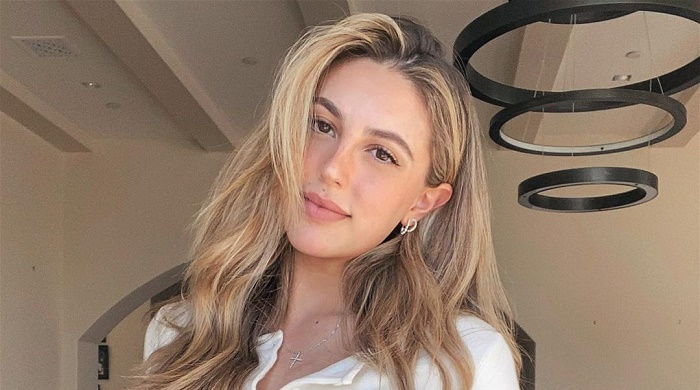 As of now, she has kept her career as her primary priority and is working really hard to pursue her dream in the coming future.
Is Sophia Stallone Single?
The gorgeous model Sophia Rose Stallone is most probably living a single life. She has not shown any interest in relationships as well.
The model seems more focused on her works and has really little time to give away for other stuff and does not take interest in other things as well.
However, previously, she was in one relationship with a soccer player Connor Spears.
As of now, she is more focused on her dreams and does not seem to be dating anyone, and is living a great life regardless.
Whom has Sophia Rose Stallone Dated?
So far, the model has only reported being in one possible relationship. She was in a possible relationship with a soccer player Connor Spears.
The pair first met while attending college. They soon began dating and has kept their relationship very private,
However, it is unknown if the two are still together or have broken up already. She does not post much information about him and seems to have parted ways.
She has got a huge success ahead of her and is more focused on that matter primarily rather than all these subjects.
Is Sophia Rose Stallone Married?
No, the young model Sophia Rose Stallone is not a married lady. She is currently living a single life and also is not seeing anyone.
Stallone seems more dedicated to her career and is not available for dating anytime soon.
However, when the time comes, she might find the best guy for herself till then, she likes things the way they are.
Stallone also keeps her private life very isolated from the reach of the media and tries her best not to mention it openly.
Sophia Rose Stallone's Controversies
Sophia Rose Stallone so far has never been a subject of any sorts of controversies and rumors.
Stallone has managed to keep a very low-profile life and does not get involved in these sorts of things.
She has maintained her private and professional life separately and does not let any life affect another in any way.
Nonetheless, she has an amazing life regardless and is enjoying the way she wants.
Sophia Rose Stallone's Net Worth
Sophia Rose Stallone has an estimated net worth of around $500,000 as per various sources.
A huge chunk of her income generally comes from her career as a model. However, her annual income is yet under review.
Looking at her success, it is sure the model earns approximately thousands of dollars and her net worth is sure to take a drastic rise in the future.
She lives a very rich and lavishing life in Los Angeles in her luxurious place. Being the daughter of a huge personality, she grew up in luxury and has had a great life.
Her father, Sylvester Stallone, a famous actor has a net worth of around $400 Million as per the celebrity net worth.
He also owns several properties and real estate throughout the country worth millions of dollars.
Her mother, Jennifer Flavin, a former model also has a net worth of $10 Million as per different data.
The primary source of her income generally comes from her early days as a model and also from her current business ventures.