Andre Agassi is an American former tennis player. He is known as the No. 1 tennis player, is an eight-time Grand Slam Champion, and an Olympic gold medalist in 1996.
Andre Agassi's Early Life and Education:
He was born on April 29, 1970, in Las Vegas, Nevada, USA. He is the son of a former Iranian Olympic boxer Emmanuel "Mike" Agassi, and his mother Elizabeth "Betty" Agassi. Andre grew up with his three older siblings Rita, Philip, and Tami. When he was 12, he won the 1982 National Indoor Boys 14s Doubles Championship in Chicago with his friend and double partner, Roddy Parks.
The following year, his father sent him to Nick Bollettieri's Tennis Academy in Florida. His father could only afford him to stay three months. After watching him play for thirty minutes, Bollettieri, very impressed by his skills, offered him the training for free.
Talking about his academics, he dropped out of high school in the 9th grade in order to pursue a full-time tennis career.
Andre Agassi's Professional Life:
Andre Agassi became a professional tennis player at the age of 16. He won his first-ever tournament at La Quinta, California, against Mats Wilander. By the end of 1986, he was ranked No. 91. By the end of 1987, he surpassed $1 Million after playing in just 43 tournaments.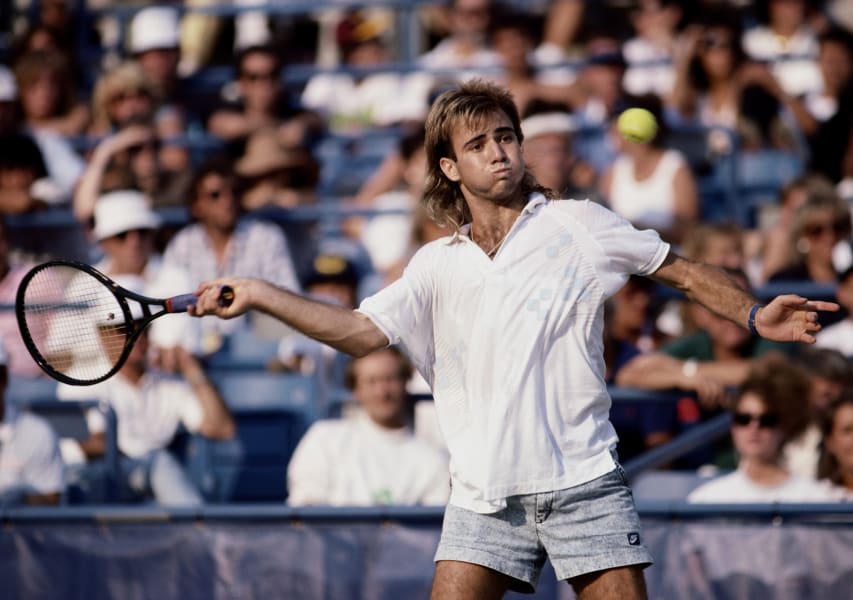 During the Open Era, Andre became the first male player to win 4 Australian Open titles. He is the second of 5 male singles players to gain the Career Grand Slam in the Open Era. Andre was the first male player to gain victory over all four Grand Slam tournaments on three different surfaces and the last American to win both the French Open in 1999 and the Australian Open in 2003.
Agassi has 17 ATP Masters Series titles and also was a part of the winning Davis Cup teams in 1990, 1992, and 1995. In 1995, he was ranked No. 1 for the first time. However, troubled by many personal issues, during the mid-to-late 1990s, he dropped to No. 141 in 1997. Many people thought his career was over. Soon after in 1999, he came back to his feet and returned to be No. 1 and reigned the most successful run of his career over the next four years.
On his two decades plus tour career, he was nicknamed "The Punisher". Unfortunately, after suffering from sciatica, a pain going down the leg from the lower back, caused by two bulging discs in his back, a spondylolisthesis, and one spur interfering with the nerve. He retired from professional tennis on September 3, 2006, after losing to Benjamin Becker in the third round of the US Open.
Andre Agassi's Personal Life:
Talking about his personal life, Andre Agassi is a married man. He tied his knots with tennis player Steffi Graf on October 22, 2001, at their Las Vegas home, in an extremely private ceremony attended only by their mothers. Together, the couple has a son Jaden Gil, born in 2001, and a daughter Jaz Elle, born in 2003. The couple is living a precious and blissful life together.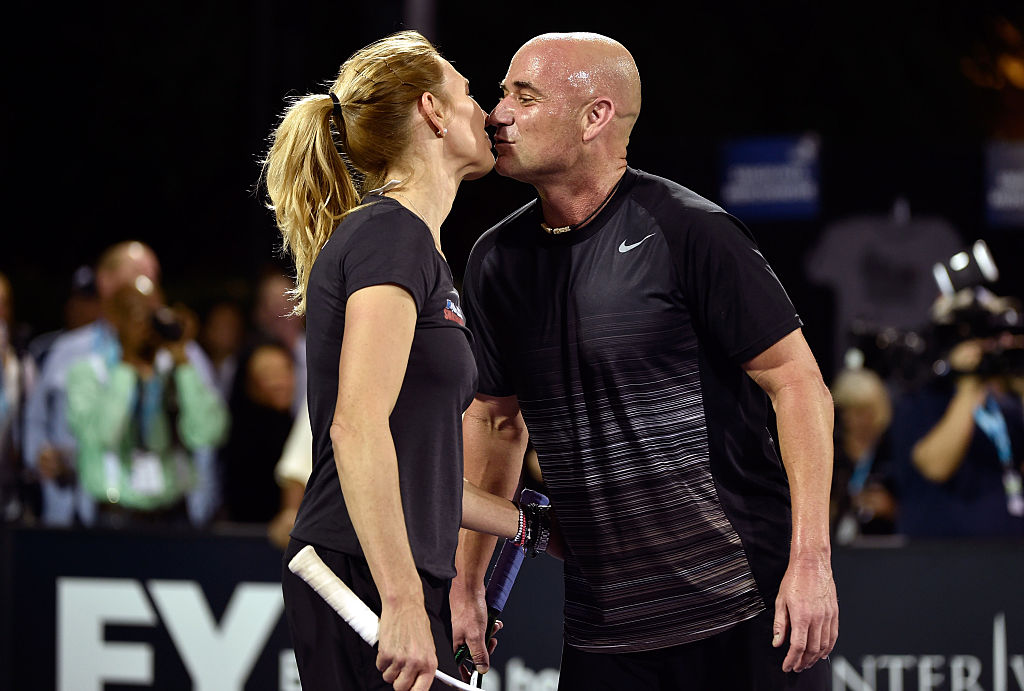 Prior to her, Agassi was married to American actress and model Brooke Shields. Their marriage lasted only from 1997 to 1999. Agassi also dated American singer and entertainer, Barbara Streisand in the early '90s. Even though, she was 28 years older than him but, not even age could keep them apart. He said dating Barbara was like wearing hot lava. However, their relationship broke up.
Andre Agassi's Net Worth:
Andre Agassi is a former professional tennis player who has an estimated net worth of $145 Million as per the celebrity net worth. A huge part of his payment was made from his career as a tennis player.
In 2007, he along with his wife sold a 10,000 square foot home in Tiburon, California for $23 Million which he purchased for $20 Million in 2001. As of now, he lives in Las Vegas, Nevada with his family in his multi-million dollar mansion. He founded Andre Agassi Foundation and has successfully raised over $60 Million for at-risk children in Southern Nevada. However, his annual income is yet under the veil but, he is living a lavishing and luxurious life in Las Vegas.