Brigitte Nielsen is a Danish actress, model, and singer. She is best recognized for her roles in Cobra, Rocky IV, Snowboard Academy, and more.
Brigitte Nielsen's Early Life and Education
She was born on 15 July 1963, in Rodovre, Denmark. She is the daughter of an engineer father Svend Nielsen and a librarian mother Hanne Nielsen.
Brigitte grew up woth her brother Jan Nielsen. She has Danish ethnic background and also holds Danish citizenship. Her zodiac symbol is Cancer.
Likewise, there is currently no information available regarding Nielson's educational background.
Brigitte Nielsen's Professional Life
Nielsen began her professional career modeling for Helmut Newton and Greg Gorman. Eventually, she appeared in movies like Red Sonja and Rocky IV both in 1985.
Moreover, she has also acted in the movies Cobra in 1986, along with Sylvester Stallone and Beverly Hills Cop II in 1987.
In the '90s, she starred as Black Witch in the Italian movie series Fantanghiro. Later, she appeared in B-movies and also hosted TV shows, and appeared on reality shows as well.
She is best known as the former wife of the American actor and director Sylvester Stallone. She has also appeared in numerous movies with him.
Brigitte Nielsen's Personal Life
Brigitte Nielsen is a happily married woman. She tied her knots to Mattia Dessi, a professional bartender who is living a splendid life with him.
So far, she has been involved in several serious relationships throughout her long career with different personalities.
As of now, Nielsen lives a happy life with her husband in Palm Springs. She tries her best to hide all possible details about her personal life.
Being a celebrity, it is hard to do so and the media has its connections to dig up all the information. Nonetheless, she has a beautiful life.
Is Brigitte Nielsen Single?
No, the beautiful model and actress is not single and is in fact a married woman. She is the wife of a professional bartender Mattia Dessi.
Prior to him, she also has dated several men. Nielsen has been wedded five times in her life.
Nielsen also has four sons from her past relationships and a daughter from her current marriage. She is an amazing mother and a loving wife.
Brigitte lives a great life raising her daughter in Palm Springs along with her husband Dessi.
Whom has Brigitte Nielsen Dated?
Throughout her career, the model has dated multiple men. She has also married five times in her life.
Apart from her marriages, she was also in a living relationship with former football player Mark Gastineau from 1988 to 1990 and rapper Flavor Flav in 2005.
Likewise, she also had a few short-lived relationships with Sean Penn, Tony Scott, and an affair with Arnold Schwarzenegger. She revealed that in her 2011 book.
They had an affair while filming Red Sonja in 1985 when he was in a relationship with Maria Shriver. He confirmed this news in July 2020.
Is Brigitte Nielsen Married?
Yes, the beautiful model and actress Brigitte Nielsen is in fact a married woman. She walked down the aisle with her husband Mattia Dessi on July 8, 2006.
Their wedding was held in an intimate way attended by just a few people. From their marriage, she gave birth to a healthy daughter in 2018 at the age of 54.
Prior to Dessi, she was married to Raoul Meyer. They tied their knots in 1993 and have two sons from their relationship Douglas and Raoul Jr. Their marriage however ended in 2005.
In 1990, she had a short-lived marriage to British-American photographer and director Sebastian Copeland. The couple separated in 1992 after two years.
Her second husband was Sylvester Stallone. The couple got engaged during the production of their movie Rocky IV. They finally shared their vows on December 15, 1985, in Beverly Hills.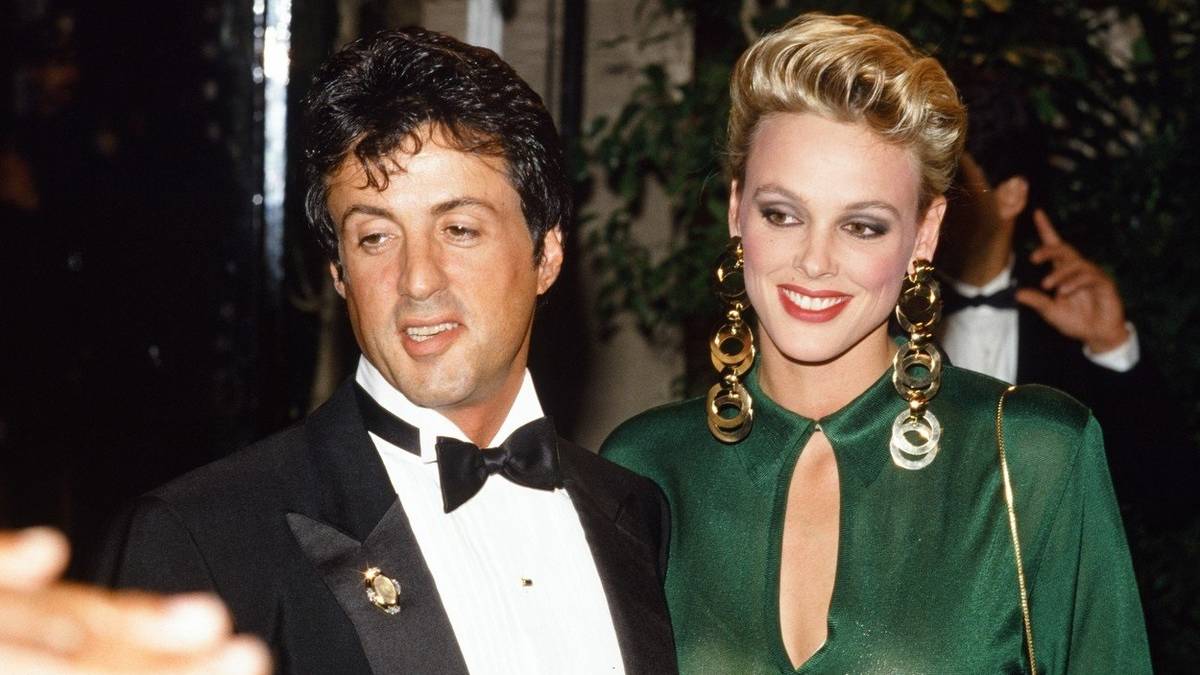 Likewise, they separated two years later in 1987. They also did not have any children from their marriage.
Her first husband was Kasper Winding. The couple walked down the aisle in 1983 and had one son Julian. They separated just after a year.
Her son Julian was primarily raised by his father and has very little contact with his mother Nielsen. Nonetheless, she lives a great life with her current husband in Palm Springs.
Brigitte Nielsen's Controversies
So far, the model Nielsen has not been a subject of any sorts of rumors and controversies. She lives a very low-profile life with her husband.
Nielsen also has no time for such dramas. She is busier on raising her daughter at the moment and stays miles and miles away from such topics.
Nielsen also makes public appearances rarely and stays away from the media limelight as far as possible and maintains a decent life.
She is also not very active in her acting and modeling career. This helps her to stay away from the highlights living a peaceful life.
Brigitte Nielsen's Net Worth
The talented model and actress Brigitte Nielsen have an estimated net worth of around $600,000 as per the celebrity net worth.
A huge chunk of her income primarily comes from her career as a model and actress and also from her reality TV series.
However, her annual income is yet under moderation but it is sure to be in thousands of dollars every year.
Her husband Mattia Dessi, a professional bartender has an estimated net worth of around $15 Million as per numerous sources.
He makes around $400,000 every year as his annual salary and roughly makes $32,000 a month.
She lives a luxurious and lavishing life with her husband in Palm Springs. Although she has not shared anything about her real estate, it is sure the couple owns multiple properties throughout the country.