Bonnie Wright is a British actress, director, model, and activist. She is best notable for her role in the Harry Potter film series.
Bonnie Wright's Early Life and Education
She was born on 17th February 1991, in London, England. She is the daughter of jewelry company owners Gary Wright and Shiela Teague.
Bonnie has an older brother Lewis. She belongs to English and Irish ethnic heritage. She holds British citizenship and her zodiac symbol is Aquarius.
Similarly, she attended Prior Weston Primary School and King Alfred School in North London. Being a child actor, she had a tutor on set and secured three A-Levels in photography, art, design, and technology.
Furthermore, she graduated from the University College of Communication at the University of the Arts London with a degree in filmmaking.
Bonnie Wright's Professional Life
Wright made her movie debut in the 2001 movie Harry Potter and the Philosopher's Stone until its final movie in 2011 for ten years.
After the completion of the franchise, she then started appearing in independent films like Before I Sleep in 2013, The Sea in 2013, After the Dark in 2014, and more.
In 2013, she also made her stage debut in Peter Ustinov's satire comedy The Moment of Truth at the Southwark Playhouse.
Following her graduation, she founded her own production company, BonBonLumiere. She started producing short movies like Separate We Come, Separate We Go in 2012, Sextant in 2016, and more.
Bonnie Wright's Personal Life
Moving on to her personal life, the Harry Potter star Bonnie Wright is a married woman. She tied her knots with her long-term partner Andrew Lococo.
Although their initial love life is still under the veil, they dated for quite some time before taking a step further in marriage.
The two recently got married and do not have any children as of now. Certainly, they will be amazing parents to their children.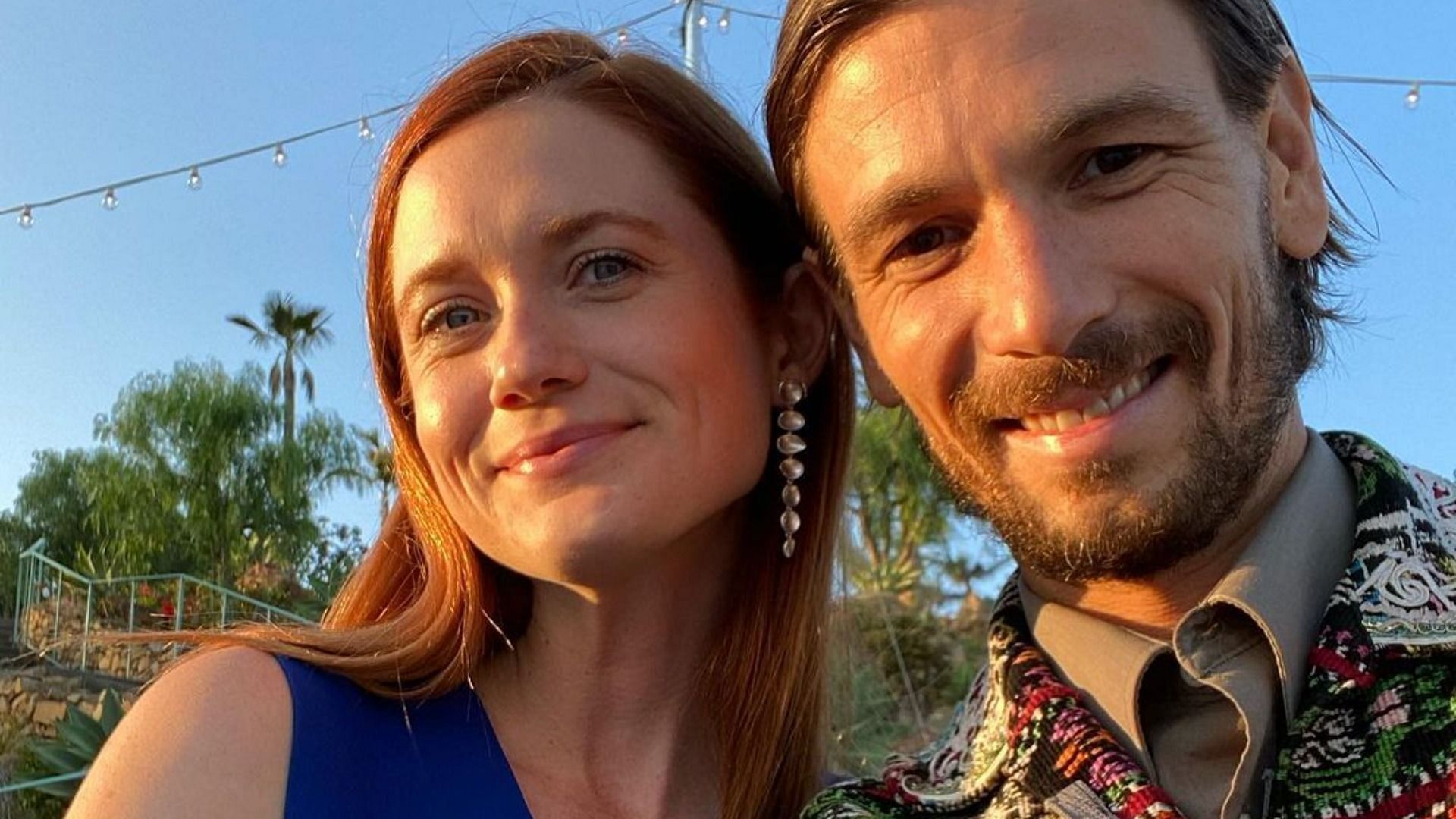 Nonetheless, she lives a splendid life with her husband and is also very much in love with one another.
Is Bonnie Wright Single?
No, the gorgeous actress Bonnie Wright is not single. She is taken by her loving husband Andrew Lococo.
Since her marriage with Lococo, she has not shared much regarding her personal life with the media. The actress likes to keep her private affairs separate.
Likewise, her husband Lococo is also not very active in media and maintains a very discreet life.
Bonnie, being a huge public figure, has done phenomenal work of concealing her inside life from the public reach and lives an unbothered life with her spouse.
Whom has Bonnie Wright Dated?
So far Bonnie Wright has dated several personalities in her past prior to marrying her husband Lococo.
While she was shooting the Harry Potter film series, she met actor Jamie Campell Bower on the set. He was portraying the young character of Gellert Grindlewald.
In April 2011, the two also announced their engagement however, the following year, they called off their engagement and broke up.
After the separation, Bower began dating British-American actress Lily Collins. But, they also broke up after some years.
Collins ended up marrying filmmaker Charlie McDowell. Wright on the other hand started dating a Nightclub boss Simon Hammerstein.
They started seeing each other in mid-2013 however, their relationship only lasted for a brief time, and separated soon after.
Although the exact reason behind their breakup is still not clear to the public. After her split, she then dated her now-husband Andrew Lococo.
She never mentioned anything about her relationship with Andrew until November 2020.
Is Bonnie Wright Married?
Yes, the talented and famous actress Bonnie Wright is in fact a married lady. She is living a great life with her spouse Andrew Lococo.
The two dated for some time before finally taking up their relationship with the media. She announced her relationship with him after she shared a picture of him on her Instagram in November 2020.
After being in a publicly open relationship for two years, they finally walked down the aisle in March 2022.
Still, the two chose to keep their wedding very intimate and only invited a few important and close relatives to the wedding.
As of now, both of them are living a great life together and also seem very happy to have one another by their sides.
Although the couple does not have any children they will certainly be the most amazing parents to their future kins.
Till then, both of them seem busy with their work and also are dedicated to building their career at the moment.
Their marriage does not appear to have any complications and is also running very smoothly.
Bonnie Wright's Controversies
So far, Bonnie Wright has never been a prime suspect of any sort of rumors and controversies and chooses to stay miles and miles away from it.
Wright does not like to indulge herself in any unnecessary dramas and prefers to stay hidden from them.
Likewise, she maintains very positive relations with the press and her audience and always gives her generous and open opinions.
She keeps her personal and professional lives separate and does not let one affect another in any way.
Bonnie Wright's Net Worth
The bold and fierce actress, director, and activist Bonnie Wright has an estimated net worth of around $4 Million as per celebrity net worth.
A huge load of her income mostly comes from her successful career in the cinematic and entertainment industry.
However, her annual income is yet under moderation but viewing her success, it is very sure to be in hundreds of thousands every year.
Likewise, taking an up-close look at her growing fame and career, it is quite sure her net in the forthcoming future is sure to take a huge rise.
She lives a very luxurious and lavishing life in her expensive real estate with her husband. Although she has not disclosed anything regarding her properties.
Yet being a celebrity, it is sure Wright owns several properties and assets throughout the country and lives cozily.