Lily Collins is a British-American model and actress. She is famous for her role in the movie The Blind Side.
Lily Collins' Early Life and Education
She was born on 18th March 1989, in Guildford, Surrey, England. She is the daughter of an English musician Phil Collins and her mother Jill Tavelman.
Lily has four half-siblings including Simon Collins add Joely Collins. Her parents separated when she was just six and relocated to Los Angeles with her mother.
Lily holds dual citizenship in the U.S. and the U.K. She belongs to English, German, and Ashkenazi Jewish ethnic heritage. Her zodiac symbol is Pisces.
Likewise, she attended Harvard-Westlake School and went to the University of Southern California, where she majored in broadcast journalism.
Lily Collin's Professional Life
Lily started her acting and modeling career in the late 2000s and gave her breakthrough performance in the movie The Blind Side in 2009.
After that, she appeared in movies like Horror Priest in 2011, Mirror Mirror in 2012, The Mortal Instruments: City of Bones in 2013, Love, Rosie in 2014, and more.
Her critically acclaimed roles include Rules Don't Apply in 2016, the Netflix series To the Bone in 2017, Tolkien in 2019, and others.
Since 2020, she has starred in the Netflix series Emily in Paris. Collins made her writing debut in 2017 with her book Unfiltered: No Shame, No Regrets, Just Me.
Lily Collins' Personal Life
Moving on to Lily Collins' personal life, the actress is currently in a marital relationship with her long-term boyfriend Charlie McDowell.
He is a film director and writer. The two first met in 2019 and began dating soon after. After several years, they finally got married.
Prior to him, Collins has dated numerous personalities throughout her career. However, all of them ended up somewhere.
Lily and Charlie have not shared much about their personal matters with the media and have maintained a low-profile life.
Is Lily Collins Single?
No, the Emily in Paris star Lily Collins is not single. The actress is in fact married to her long-term partner Charlie McDowell.
The two began openly dating in 2019 and just after a year, they finally announced their engagement on September 25, 2020, through Instagram.
The following year, they also tied their knots in Dunton Hot Springs, Colorado, in a private ceremony attended by a few guests.
However, they do not have any as of now but they surely will be the most amazing parents to their children.
Whom has Lily Collins Dated?
Throughout her decades-long career, the gorgeous actress has dated several celebrities during her time.
While shooting Priests in 2009, she met stuntman Riley Harper and soon began dating. However, their relationship could not last for a very long time, and broke up after a year.
After him, she met American actor Taylor Lautner. They also dated for a year from 2010 to 2011. They were spotted many times together.
She also had an on-and-off relationship with actor Jamie Campbell. They first started dating in 2012 during the filming of The Moral Instruments: City of Bones.
However, they broke up after a year and again reconciled in 2015 and again separated the same year.
After him, she briefly dated American singer and songwriter Nick Jonas in 2016.
In 2017, again started dating during the end and ended their relationship in 2018 for the final time.
During her breakup with Campbell, she dated Australian actor Thomas Cocquerel in 2014 for a year. They first met through a mutual friend.
The same year, she dated another photographer Matt Easton for some months and called off their relationship.
Finally, in 2019, she met Charlie McDowell, the man of her dreams, and has been inseparable since.
Is Lily Collins Married?
Yes, the beautiful actress, Lily Collins is a married lady. She tied her knots with handsome director and writer Charlie McDowell.
After dating for a year, they finally announced their engagement on September 25, 2020, and tied their knots the following year on September 4, 2021.
Their wedding took place in Dunton Hot Springs, Colorado in a very intimate ceremony attended by very few people.
She also gives updates about her life with her husband through her social media and keeps up with her fans about her personal life.
She seems to be living a very magical life and there are no complications between their marriage.
Lily Collins' Controversies
Emily in Paris, the Netflix series, Emily Collins stars in has received numerous controversies about the show.
During its second season, the Ukrainian culture minister, Oleksandr Tkachenko complained about the portrayal of a character Petra from Kyiv.
He described the portrayal of Petra as "insulting" who also has a poor fashion sense and is afraid of deportation.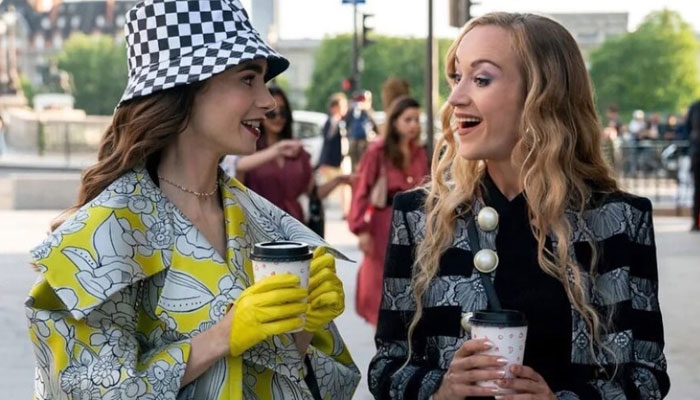 However, some also defended the show for its backlashes. Also, during its first season, it received criticisms about the portrayal of different nationalities and also for promoting stereotypical residents and city images.
It shows the French as rude people wearing berets and cheating on their partners.
Lily Collins' Net Worth
Lily Collins, a well-known actress, and model have an estimated net worth of around $25 Million as per the celebrity net worth.
A huge bulk of her income is mostly generated from her successful career in the cinematic and fashion industry.
However, her yearly salary is still under speculation but viewing her carer, it is sure to be in millions of dollars every year.
Likewise, her net worth in the forthcoming period is also sure to take a drastic rise with her growing fame.
The actress lives a very luxurious and lavishing life with her husband in Los Angeles, California in their luxury real estate.
In March 2021, Lily sold her home for $13.5 million in Beverly Hills, Los Angeles. However, she has not disclosed much about her real estate.
But it is certain the actress owns several properties and real estate throughout the country.
Her husband Charlie McDowell also has an estimated net worth of around $85 million as per various sources and earns $5 Million as his annual revenue.