Crystal Reed is an American actress. She is most notable for her role in the supernatural drama series Teen Wolf.
Crystal Reed's Early Life and Education
She was born on 6th February 1985, in Detroit, Michigan, USA. However, her parents' identities are unavailable at the moment.
Reed has an older brother, Corey. She belongs to English, Welsh, Scottish, Polish, and Native American ethnic backgrounds.
She was raised Catholic and also has attended a Baptist church growing up. Although, she did not like it.
Crystal graduated from Roseville High School and also served as a dance captain in high school. She also worked as an active member of a local community theatre.
Moreover, she attended Wayne State University and studied Bachelor of Fine Arts. However, she dropped out of the program after.
Crystal Reed's Professional Life
After dropping out, she moved to Chicago and appeared in several local productions. Then in 2008, she relocated to Hollywood in order to pursue an acting career.
In 2010, she appeared as a guest in CSI: Crime Scene Investigation, The Hard Times of RJ Berger, and CSI: NY.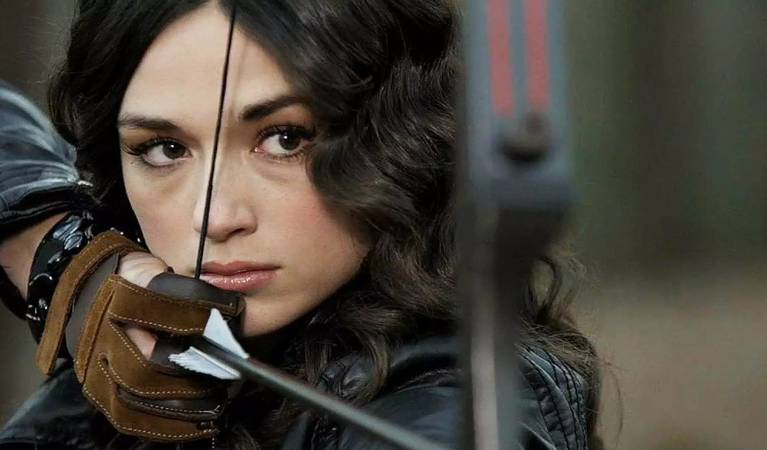 Her breakthrough performance came from the supernatural teen drama series Teen Wolf from 2011 to 2014 and also made a guest appearance later.
After that, she appeared in other series like Gotham from 2017 to 2018, Swamp Things in 2019 as Abby Arcane, and more. Her other notable film roles include Skyline in 2010, Too Late in 2015, Ghostland in 2018, and others.
Crystal Reed's Personal Life
Coming down to her personal life, Crystal Reed is currently living a single life. Moreover, she also has not mentioned anything about her ongoing dating life.
After her multiple heartbreaks, the actress has decided to keep her personal life very discreet from the reach of the media.
However, in the past, the actress has dated several personalities. Unfortunately, none of her relationships turned out to be much of a success.
Hence, as of now, Reed is more focused on herself and also is very occupied by her work. She rarely gets any free time to spend for herself.
Is Crystal Reed Single?
Most sources claim the actress to be currently living a single life. Reed on the other hand also has not made any formal announcement regarding her relationship status.
She is most probably living a single life and also is currently very busy with her work schedule and rarely has any time.
However, the talented actress has been involved in multiple relationships with many personalities. She was also married to American personality Peter Nottoli but later divorced.
Reed also has chosen to keep her internal matters concealed from the press and does not share much about it the outer world.
Whom has Crystal Reed Dated?
Throughout her decade-long career, the actress has dated many personalities throughout her life.
Her last relationship was with Scottish-Australian radio personality Darren McMullen. The two were in a long-term relationship until 2019.
The couple first began dating in 2013. After spending many years together as a couple, they began having issues in their relationship.
This led the duo to break up and move on with their own separate lives. Prior to him, she was dating British actor Daniel Sharman.
Daniel and Crystal first met while they were shooting the TV series Teen Wolf. They soon started dating however, they also broke up two years later in 2013.
Moreover, she also had a short-term relationship with English actor Oliver Trevena. They dated for a brief time in 2011.
As of now, the actress enjoys a free and peaceful life on her own and is also busy building a successful career.
Is Cryatal Reed Married?
Crystal Reed lives a single life presently. However, in the past, she was once married to American personality Peter Nottoli.
She tied her knots with him in 2008. Reed was still very new in the industry at the time of her marriage with Nottoli.
However, their marriage could not last for a very long time. After just two years of living a life as a married couple, they separated in 2010.
From their marriage, they did not have any children. Although the exact date and venue of their wedding are still unknown.
Their wedding was most probably held in a very intimate manner. After her divorce, Reed appeared in the drama series Teen Wolf, which became a turning point in her life.
The series gave her a wider prominence and her life changed ever since. The actress is still continuing to build herself a successful life.
However, when the right time comes, she will surely find the right man for herself to spend her life together with.
Reed will certainly be a great mother and also a very loving wife. Till then, she has her own things to deal with at the time.
Crystal Reed's Controversies
So far, the actress has never been a prime subject of any kind of rumors and controversies. She also lives miles and miles away from such matters.
Crystal does not like to include herself in any unnecessary dramas and prefers to stay away from all of these things.
Likewise, she also never has made any judgemental or controversial statement anywhere. She is very down-to-earth and respects everybody.
She has maintained a very positive and close relationship with the press and the audiences and is also much loved by everyone.
Crystal Reed's Net Worth
The famous and talented actress Crystal Reed has an estimated net worth of around $3 Million as per the celebrity net worth.
A huge load of her paycheck mostly comes from her career in the entertainment and cinematic industry.
However, her annual revenue is yet under moderation but viewing her success, it is quite certain to be in hundreds of thousands every year.
Likewise, her net worth in the forthcoming future is sure to take a hue rise with her developing fame and success.
She surely lives a very luxurious and lavishing life in her expensive and big real estate. However, she has not disclosed anything about her properties.
Being a celebrity, she indeed owns multiple properties throughout the country even though she has not shared anything about it.
Nonetheless, she lives a very luxurious and lavishing life in Los Angeles, California.